The Mummy marks a return to the past and a nod to the future for Universal: Taking inspiration from its 1932 and 1999 films of the same name, it's the first installment of a new "Dark Universe" franchise that is set to include flicks like Jekyll & Hyde and Bride of Frankenstein. Tom Cruise stars as an antiquities hunter who disturbs an Egyptian sarcophagus and awakes an evil spirit. Here's what critics are saying:
Peter Travers calls The Mummy "a monster fail" that kills anticipation for future franchise flicks. It has too much CGI, and director Alex Kurtzman "can't seem to make sense of a script by numerous writers clearly unashamed of hack work. He adds Russell Crowe appears as Dr. Jekyll and Mr. Hyde for no good reason.
Crowe is "surprisingly fun" in this role, but the film's attempts to make him into "head honcho, superhero, and mad scientist all at once" may be its "worst conceptual misfire. But then, "virtually everything in this movie seems like the wrong decision." It's a "massive mess of a movie" that "seems doomed to repulse anyone who comes across it," he writes.
Glenn Kenny was also thrown off by the Jekyll character, but that's just one reason he's warning that the "Dark Universe" franchise might be a "grievously ill-advised" one. Its first installment has "plenty to get irritated about," including some "very old-school sexism. It's "amazingly relentless in its naked borrowing from other, better horror and sci-fi movies" to boot.
It's not all bad, though. "Some of the action is thrilling, especially a brilliantly choreographed plane crash," and there are a "few genuinely funny moments." But those moments "are no match for the cumbersome, convoluted story, not to mention the nonexistent chemistry between Cruise and [Annabelle] Wallis," she notes. Not a good start, Universal.
Sofia Boutella appears in a scene from, "The Mummy."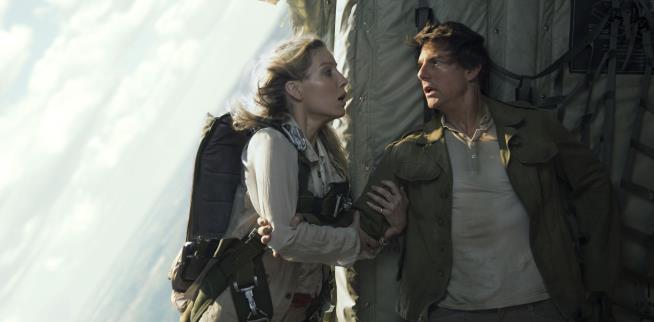 Annabelle Wallis, left, and Tom Cruise appear in a scene from, "The Mummy."