Prosecutors: Soccer Bus Bombing Was Scam, Not Terrorism
Suspect stood to profit from fall in share price
 A 28-year-old German-Russian citizen was arrested Friday in Germany on suspicion of bombing the bus carrying the Borussia Dortmund soccer team in an attack last week that prosecutors alleged was motivated by financial greed. A Dortmund player and a policeman were injured in the triple blasts last week as the bus was heading to the team's stadium for a Champions League match against AS Monaco. Investigators found notes at the scene claiming responsibility in the name of Islamic extremists, but quickly doubted their authenticity. Prosecutors say the suspect, identified only as Sergej W., faces charges of attempted murder, causing an explosion, and serious bodily harm.
Prosecutors revealed that the suspect had bought a large number of so-called put options for shares of Borussia Dortmund. These would have entitled him to sell the 15,000 shares at a pre-determined price, which could have resulted in a substantial profit if their value had fallen in the meantime. "A significant share price drop could have been expected if a player had been seriously injured or even killed as a result of the attack," prosecutors said. The suspect had booked into the team's hotel in Dortmund and placed three explosives, packed with shrapnel, along the route the bus would take to reach the stadium, prosecutors said.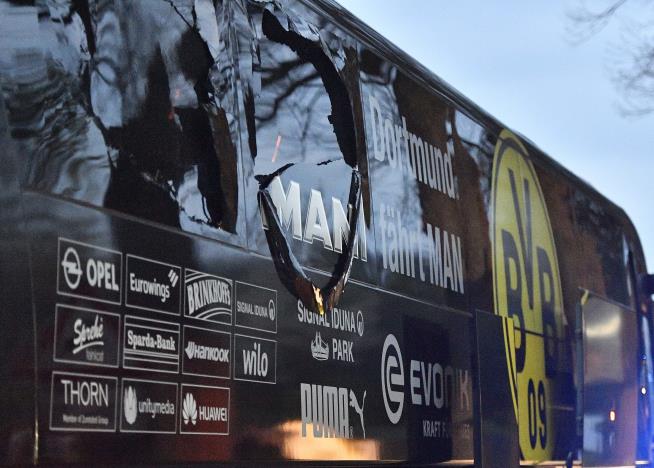 In this April 11, 2017, photo, a window of Dortmund's team bus is damaged after an explosion before a Champions League quarterfinal soccer match.
Dortmund's Marcel Schmelzer, third from right, talks to police officers outside the daamged team bus.