Suspect arrested after all-night standoff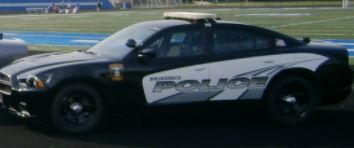 (NEWSER) – A suspect in custody in Brunswick, Ohio, is believed to be linked to the disturbing murders of a woman and her two adult children over the weekend. Police tell People that 45-year-old Suzanne Taylor and daughters Taylor Pifer, 21, and Kylie Pifer, who would have been 19 on Sunday, were discovered dead under covers in a bed, as if they had been tucked in. Police say at least one of the victims was stabbed. The mother's boyfriend, Scott Plymale, is believed to have called 911 Sunday evening after Taylor Pifer's boyfriend, Dale Koster, found the bodies in the North Royalton home and called him.
A suspect identified by Cleveland 19 News as George Brinkman was taken into custody early Tuesday after an all-night standoff. The 45-year-old was led from a home in handcuffs around 5:30am. The homeowner, a woman, was able to get out unharmed, but Brinkman refused to leave for at least eight hours. Police could be heard negotiating through a loudspeaker with Brinkman, who was apparently drinking whisky during the standoff. Police say he was armed with a handgun, but officers were able to take him down with a Taser after entering the home through the front door.